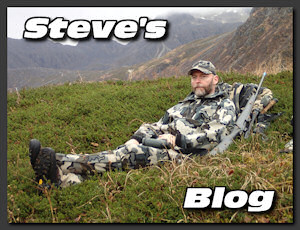 What's your favorite cartridge(s)?  Is it the latest, greatest, whiz-bang magnum that's proclaimed to shoot like a laser from zero to eternity?  Maybe, it's the one your Pap handed down that you tagged your first buck with.  There's no right or wrong choice here, just personal preference and most importantly, what you have confidence in.  This is for fun, so please, no puffing your chest out or flexing your biceps.  Same goes for trying to look taller than you actually are.  Remember, this is for fun!
I like just about anything that's accurate, whether it's an air gun pellet or an arrow shaft.  If I could launch bowling balls into a .5 MOA group, I would love it.  I need to make a note on the bowling ball idea, as that would be pretty cool.
I have numerous cartridges that I like, but will limit them to ten.  Just like ice cream, there are many flavors and life's too short to choose just one.  My choices may surprise you, but they all have a purpose and shine in certain applications.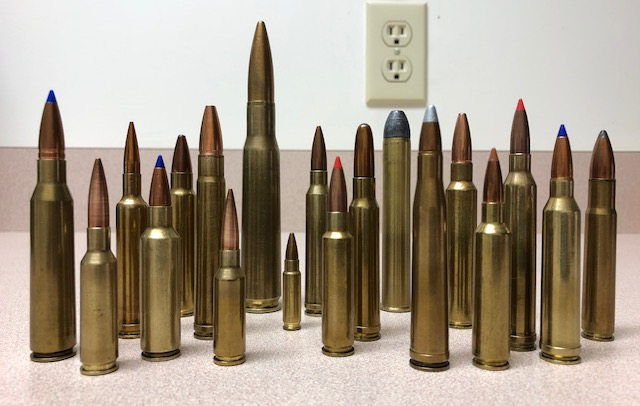 300 Winchester Magnum –  If I were forced to choose just one, this would be it.  It's accurate, versatile and I have confidence to hunt anything in North America with the correct bullet.  It's not the latest, greatest, but it's hard to beat for an all around big game cartridge.  Same goes for the 300 WSM.
30-06 –  My first rifle purchase ever was chambered in 30-06.  It was a toss up between it and the 270 Winchester.  I went with the 06 and still have it today.  It has performed wonderfully, even though I haven't used it in years.  I will go on record and say, it's a hard round to beat across the board in a non magnum.  There's nothing fancy about it, but it sure gets the job done.  Time tested and versatile!  If you can't find ammo for it, you're probably in the wrong town.  I like it because it was my first and it works.
270 Winchester –  Even by today's standards, this cartridge is flat shooting.  Time tested and accurate too!
270 WSM –  This little bombshell is underrated in my opinion.  Very fast, flat shooting and accurate.  A lot of potential in a shorter cartridge.  With the correct bullet, I'm reluctant to say in writing what I would shoot if the opportunity presented itself and I had a tag in my pocket.  It's impressive!
375 H&H Mag. –  I'm fond of the .375 for its performance on larger/dangerous game.  I'm impressed by its accuracy in my builds and I love the nostalgia of this cartridge.
22-250 –  Flat, fast and accurate.  Most likely, the cartridge that comes to mind when talking about varmints/predator hunting.  Enough said.
6mm Rem. –  Very similar to the more popular .243 Winchester.  A dual purpose cartridge for varmints and deer size game.  Very accurate and I probably like it because it's the underdog  of the two.  Very poor marketing all but killed this round from the beginning.
6.5 Creedmoor –  This cartridge gained popularity which almost seemed overnight.  A good, accurate and balanced round that had smart marketing behind it.  It's a stellar performer on varmints, paper (competition) and deer/caribou size game.  It's not the do all some may believe from ground squirrels to rhino (sarcasm).  However, it's very good for what it's intended for.
7-08 Rem. –  A good, accurate cartridge that can be chambered in a light, handy mountain rifle.  Not fast by today's standards, or slow, but a nice solid choice for the majority of your hunting.
22 L.R. –  You probably weren't expecting to see this listed.  If you want to hone/improve your shooting skills, this is it.  An accurate rifle with a good trigger will help towards shrinking your groups.  A great starter for beginners of any age.  Good for small game, paper/cans, competition and inexpensive to shoot compared to centerfire cartridges.
Your choices may differ and that's okay.  I listed ten that I like for various reasons and that's subject to change.  There are others that I'm fond of as well, .338-06, but I had to stop  somewhere.  One thing that always stays the same for me, regardless of cartridge choice…. It has to be accurate!
Shoot straight,
Steven P. Boswell