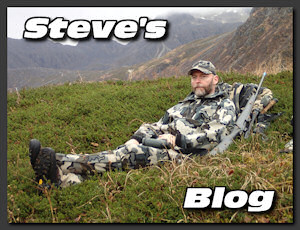 I'm often asked, what's the proper way to clean my rifle? Here's a detailed cleaning regimen that I use that will keep your rifle shooting to its full potential without damaging the barrel.  I start out with a few inexpensive tools that can be purchased at Sinclair International 1-800-717-8211.  For the most part, everything in their catalog is of quality and I highly recommend them.  I especially like their bore brushes.
*Dewey cleaning rod of proper caliber and length
*Bore guide
*Bronze bristle brushes 1 doz.
*Cotton cleaning patches
*Shooter's Choice bore cleaner (super formula)
*Bolt lug grease
*Kroil oil
*Shooter's Choice Firepower 10 oil
*Plastic solvent dispenser bottle
*Chamber mop
Start off by making sure your rifle is unloaded and place it horizontally in a cleaning cradle, vise, etc.  For purposes of these instructions, we'll be referring to bolt action rifles.  Remove the bolt and sit it aside.  Insert the bore guide in the receiver and put a towel or rag over the buttstock to protect it from solvents.  With the proper fitting jag/cotton patch on the cleaning rod, put a sufficient amount of cleaning solvent on the patch using your plastic solvent bottle.  Run the patch completely through the bore until it exits.  Slowly withdraw the cleaning rod and let the patch fall in the trash can which is placed underneath.  Completely remove the rod and wipe it off.  Repeat the wet patch process 1 or 2 more times.  Never force a jag/patch through the barrel.  You should have slight resistance, but never so much where you're pounding on the end of the rod.  There's a reason they make different size jags and cotton patches.
The Shooter's Choice solvent that I recommend won't harm your barrel if left in for extended periods.  This cannot be said about all solvents, so be careful if you use something different.  Depending on how copper fouled your barrel is, you may want to let it soak for 30-60 minutes or even overnight.  After sitting for a while, I generally run another solvent soaked patch through the barrel.  Next, wipe the cleaning rod off and put the appropriate size bronze brush on.  Put a few squirts of solvent on the brush and run it through until it completely exits the barrel.  Never reverse a brush while it's in the barrel.  Slowly pull the brush back until it contacts the end of the barrel and pull it back through to the bore guide.  A general guideline is to run the brush in and out one complete time for each round fired.  Once the brushing procedure is completed, run two or three solvent soaked patches through using your jag, followed up by two or three dry patches.  Take a clean Q-tip and stick it just inside the muzzle end of the barrel.  With a flashlight directed at the Q-tip, you should be able to check the progress of your work.  If you see blue/green or copper color streaks, you still have fouling.  Repeat the cleaning procedure and check your progress again.  Light copper fouling isn't the end of the world and depending on the quality of your barrel, you may elect to stop cleaning.  Factory barrels are not the quality of good match grade barrels and therefore often have machining marks that copper imbeds in.  This can make the copper fouling more difficult to remove.
Once your satisfied with your cleaning, remove the brush and rinse it off.  I drop them in a sealed container of 91% isopropyl alcohol which can be found at drug stores.  Place a patch on your jag and put one or two drops of Kroil oil on it.  Run the patch completely through the barrel and let it drop off.  If you will be storing the rifle for some time, a light oil can be used instead.  Remove the cleaning rod and bore guide.  Take your chamber mop and wipe out any solvents that may gotten into the chamber.  Put a dab of bolt grease on the rear of each bolt lug and wipe all exterior metal down with a light oil such as Shooter's Choice Firepower 10 or equivelent and you're ready to go.
Some things to remember:
If you choose to put a light oil in the barrel, run a solvent soaked patch through to remove it, followed by a dry patch before firing a round through it.
*This is not necessary if you use one or two drops of Kroil.
After cleaning your rifle, it may take two or three rounds through the clean barrel before it settles down and prints to the original point of impact.
Unless you know what your doing, never use lapping compound/bore paste in your barrel.  Once you ruin a barrel it's ruined.  Good barrels are in excess of $300.  This is for a blank and doesn't include machining/fitting.
Never use stainless steel brushes or steel core brushes in your rifle barrel.
Barrels seem to have their own personalities.  If your groups open up after 15-20 rounds, clean your barrel.  If it continues to shoot good, shoot it.  A general rule would be to clean your hunting rifle in the neighborhood of 15-25 rounds and your competition rifle after the match.
When switching back and forth between different loads (powder/bullets) it may take a few rounds down the barrel before your groups start to settle back down and start grouping again.
Listen to your rifle and feed it what it likes.
Shoot Straight,
Steven P. Boswell
Boswell's Custom Rifles
301-739-3632